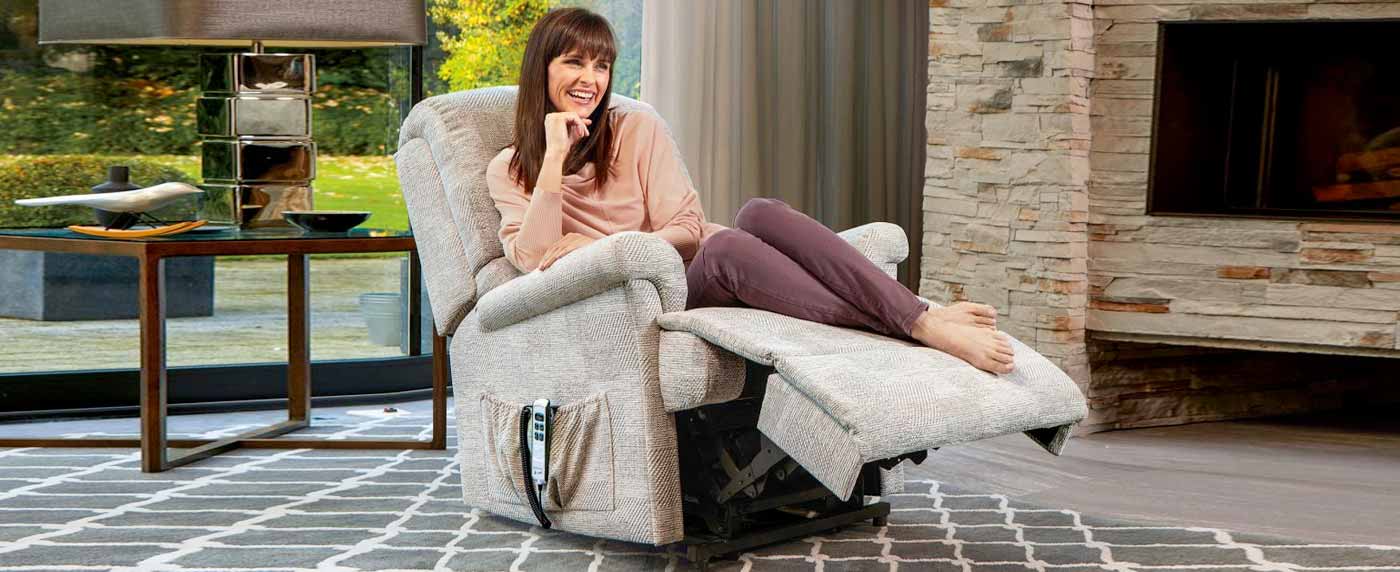 Nevada riser recliner models available in both fabric and leather.
This is the Nevada Lift & Rise Recliner made by Sherborne upholstery. It is made in four different sizes so can be suitable for all sorts of different body shapes and there is a wide choice of different fabrics & leathers it's available in. The fours sizes are Petite, Small, Standard and Royale and each of these can be either a single motor action or a dual motor action. There is a full chaise seat which simply means that the footplate and the seat are all in one when the footplate is extended. This gives great support for the back on the legs when in use and can be seen in this image.
The Nevada collection benefits from a wide padded arm rest and also high comfortable cushioned back. There is a seam across the back of the recliner which helps to create a lumbar supporting area and this along with the height of the back offers the user great support to the whole of the back, from neck and shoulders all the way down.

As standard these Nevada lift and rise recliners come on casters which are suitable for a carpeted floor, however if you have a wooden or laminate floor then you can select to have glide feet instead. This will prevent the recliners from rolling around on a hard floor. Once the lift & rise action is begun then the casters (or glides) lift off the floor and are replaced by metal feet for stability.
The controls for the recliner are on a 5 button handset which comes out of a pocket on the side of the chair, this pocket is as standard on the left hand side of the chair when you are looking at it, so this means it is more suitable for right handed people to use. However if you wish to have the handset and the controller on the opposite side then you will need to tell us about this when you place your order. This can be over the phone or if you order online there is a box on the order form for you to write in and request this.
PLEASE NOTE THAT IF YOU ARE LOOKING FOR MATCHING CHAIRS AND SETTEES THESE ARE AVAILABLE ON THIS COLLECTION AND CAN BE SEEN ELSEWHERE ON THIS WEBSITE, LOOK UNDER THE TAB THAT SAYS "SOFAS, CHAIRS AND RECLINERS"
The smooth and easy two or five button control enables the footrest to be raised before the back starts reclining. The single motor version also allows the full reclined position to be reached from a starting position only approximately 20cm (8") from the wall. The Dual motor version would require a little more space to fully recline.

This Single & Dual Motor Recliner is designed with full powerlift facility to assist sufferers of arthritis, rheumatism, MS, poor circulation and many other mobility restrictions and disabilities.

Supplied with castors for glides or ease of movement, these lift away to ensure stability in raised positions
Supplied with lift-off back to make the task of delivering the Recliner into your home so much easier
All Sherborne Care Recliners are constructed with the finest materials and mechanisms
Maximum recommended weight 25 stones.
Single use emergency battery back up supplied free of charge, multi use battery back up system available at extra cost. Also with a quick release handset to guard against unauthorised use

Prefer to order on the phone? Just call us on 01283 740004
Had or seen a better price? Let us know and we'll see what we can do!
Showing 1 to 8 of 8 (1 Pages)