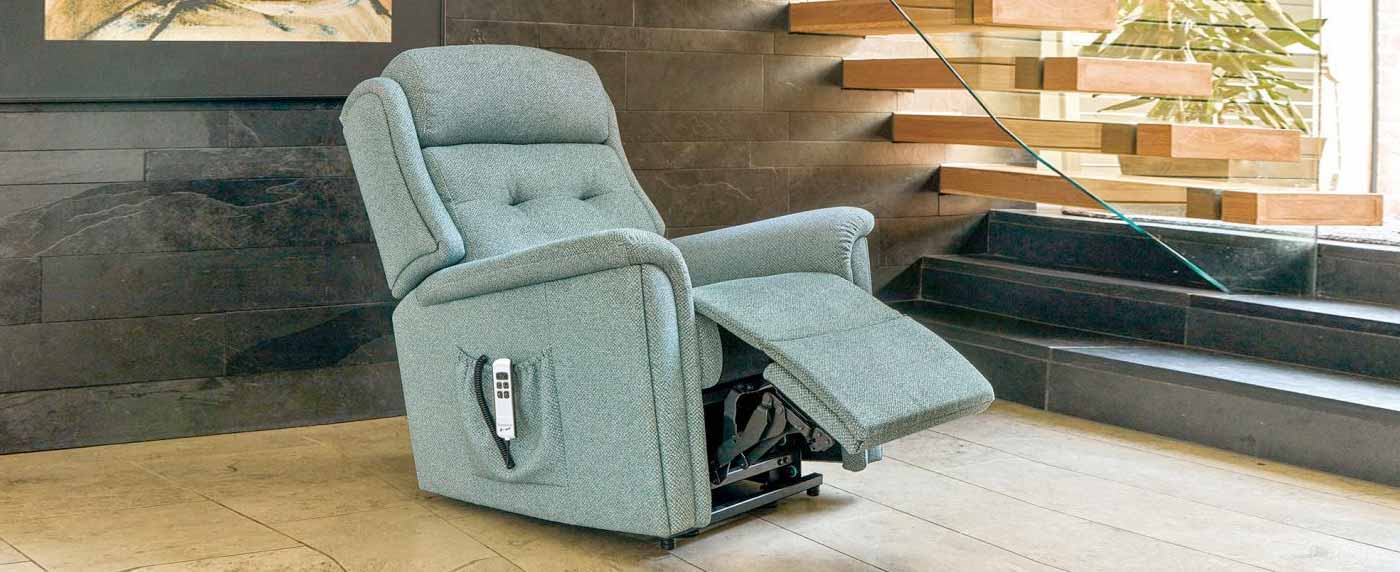 Roma riser recliner models available in both fabric and leather.
Looking for a modern looking Riser Recliner but still with the full functionality and comfort of a high quality upholstery manufacturer. The Roma from Sherborne Upholstery is a fabulous choice. There are four different sizes available being Petite, Small, Standard & Royale all of which feature a generous seat width. Made in wide selection of fabrics & leathers you'll find it easy to pick one to go with your home colour scheme and the pillow arms and high head roll offer excellent support and comfort. There is also a discrete pocket on the side of the recliner to house the handset when not in use.
PLEASE NOTE THAT IF YOU ARE LOOKING FOR MATCHING CHAIRS AND SETTEES THESE ARE AVAILABLE ON THIS COLLECTION AND CAN BE SEEN ELSEWHERE ON THIS WEBSITE, LOOK UNDER THE TAB THAT SAYS "SOFAS, CHAIRS AND RECLINERS"
The smooth and easy two or five button control enables the footrest to be raised before the back starts reclining. The single motor version also allows the full reclined position to be reached from a starting position only approximately 20cm (8") from the wall. The Dual motor version would require a little more space to fully recline.
This Single & Dual Motor Recliner is designed with full power lift facility to assist sufferers of arthritis, rheumatism, MS, poor circulation and many other mobility restrictions and disabilities.

Supplied with castors for glides or ease of movement, these lift away to ensure stability in raised positions.
Supplied with lift-off back to make the task of delivering the Recliner into your home so much easier.
All Sherborne Care Recliners are constructed with the finest materials and mechanisms.
Maximum recommended weight 25 stones.
Single use emergency battery back up supplied free of charge, multi use battery back up system available at extra cost. Also with a quick release handset to guard against unauthorised use.
Adjustable Lumbar Support option available on all riser models.

Prefer to order on the phone? Just call us on 01283 740004
Had or seen a better price? Let us know and we'll see what we can do!
Showing 1 to 8 of 8 (1 Pages)