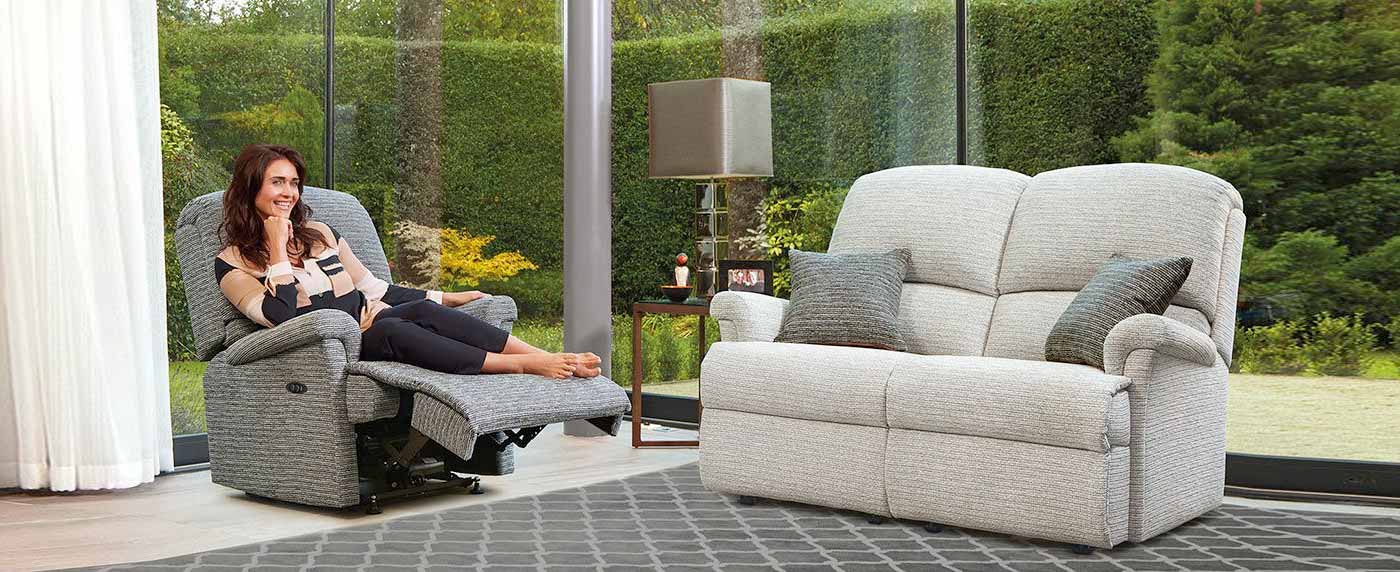 Nevada sofa's, chairs & recliners collection available in both fabric and leather.
The Nevada collection is made by Sherborne Upholstery and comprises two sofa sizes which can be fixed or with reclining actions, as well as fixed chairs or recliners. All reclining actions have the option of being manual or electric power actions and there is a wide choice of fabrics across all pieces. As standard the Sherborne ranges come on casters which is what we would suggest for a carpeted floor, however if you have a wooden or laminate floor then it is more appropriate to have the glide feet instead, this way the furniture won't roll around on a hard floor. The glide option is on a drop down menu when you place an online order, but of course you can tell us this over the phone if you order that way instead.
The Nevada collection has a more contemporary look and feel about it as it has clean lines and less complications in it's overall design. Comfort is of course the most important factor with any upholstery item, you'll find it hasn't been overlooked here. The Nevada has a supportive seat cushion that it not too soft but not harsh neither, and it also benefits from a high back cushion which has a lower seam that helps to create a lumbar support. This seam also has the second function of giving the inside back interiors the extra support they need to create a good high back cushion for the back of the head and the shoulders. There is also a comfortable padded arm to rest tied arms upon. From the back the these chairs and sofas look well tailored and neat also, so no matter where you approach from the effect is pleasing.
If you are ordering the recliner items then the rolled over front seat really pays dividends as once the footplate is extended you will find that the continuous chaise seat helps to support the back of the users legs and there are no uncomfortable gaps to bridge between the footplate and the back of the seat.
There are three sizes of recliner available in the Nevada models ; Small, Standard & Royale and these can be with either manual or powered actions. Alternatively there are four sizes of riser recliner which we have available on the riser recliner section of this website. Just click here to be taken to those.


Prefer to order on the phone? Just call us on 01283 740004
Had or seen a better price? Let us know and we'll see what we can do!
Showing 1 to 27 of 27 (1 Pages)